Product Description
Eliminates mistakes
Minimizes repetitive tasks
No time cards or time card prep work
No time card collection or storage filing
Grows as your company grows
Global data collection – Badge terminal, Internet, Wireless, PDS, PC, Proximity, or Biometric
User-friendly
Interfaces with over 125 payroll pakcages and services
Automatically calculates total hours
History/benefit tracking
Time tracking and reporting
Wage/rate calculation of labor distribution
Provides budget vs. actual cost analysis
Historical attendance reporting
Lockkout capability
Downloadable messages, hours worked, benfit time, and lockout schedule to select terminals
22 Management Reports
Selectable report date and employee or group ranges
Auto report processing
Customizable menus
Global editing and scheduling
One-step export of data to any file type
Password protection
Single or multi-user operation
User-definable fields
Extensive on-line help
Backup/restore/archive utility
Global Access Data Capture
Labor is the lifeblood of your organization – on-premises or off-premises. The more labor information you have, the more efficient and profitable your business will be. TruTimea allows you to capture that important data regardless of your employees location.
MTX Series Badge Terminal
The MTX data collection system is powerful enough to meet your needs today. . . flexible enough to grow with those needs tomorrow. Modular design lets you start with the MTX-10 for simple IN and OUT punching and easily upgrade to new technologies in the future. The MTX-20 accepts employee validation tables, displays messages and names, and offers interactive functionality including customizable keypad and display using MTX-PRO. It's your choice, based on your needs.
HandPunch® Biometric Solution
Lost badges? Forgotten punches? Buddy punching? Who would have thought the answer to so many common time and attendance problems would be quite literally "at your fingertips?" The Handpunch virtually eliminates errors in time recording by using biometric measurements of the hand to recognize employees.
Extend the power of your time solution across town. . . or across the world. Employees can collect information about their hours and punch times, check benefit time, or simply punch in and out, all from a standard web browser.
Today's workforce isn't always the nine-to-five office crew of the past. In fact, many employees rarely come into the office at all. With CellPunch, these employees can use their existing web-enabled wireless phones as interactive time terminals.
A mobile workforce needs a mobile time solution. Mobilepunch turns any common PDA device into that solution. Especially useful in work groups or teams, this software allows employees to punch in and out or perform labor transfers, while giving supervisors the ability to add hours or specific punches while in the field.
Customizable Configuration Options
How you operate and how you perform separates you from your competition. How you configure your time and attendance system may be a reflection of those differences, as well.
TruTime® is designed with the flexibility to deliver the system you want from unique pay codes to multiple day time changes, special overtime or holiday pay. The choices are yours to make regardless of complexity.
TruTime® maintains a comprehensive data file for each employee including HR data, schedules, benefit time, personal messages and wage and pay information.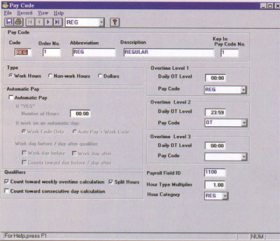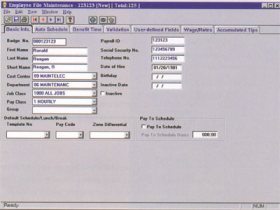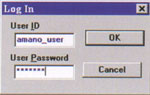 Customizable
User-friendly and intuitive. Simple menus ensure logical navigation while window desigm are straightforward.. . I free of clutter.
You have the ability to customize menus and applications to suit your individual needs. ..arm & and title menus to meet those needs.. .streamline menus to inctwde only those tasks you use.. .or even launch your payroll software from within those menus.
TruTime also allows user-definable fields that you can create to store custom information about employees.. . information you can later use to filter reports.
Secure
When dealing with sensitive time and payroll data, security is at a premium. TruTime uses a secure log in system with custom user ID'S and access levels. The system administrator may give users access to specific departments or employees and restrict modules each may access.. .your choice.
Try adding your everyday software applications to TruTime® – create your own custom menu!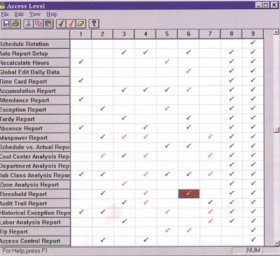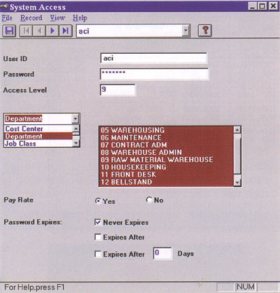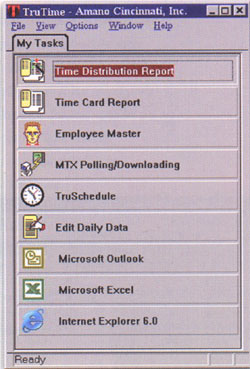 Right on Schedule
Only Amano offers TruSchedule®.. . the application allowing users to view select employees for specific date ranges, including the ability to select them. Choose from existing schedule templates or double click individual squares to enter a new schedule. Even vacation or time off scheduling is easy.. .and, since the application is customizable, individual managers can save preferred settings in a template for easy access later.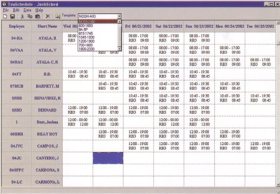 Using Advance Schedule is easy to do. Enter the appropriate schedule dates and hours – days, weeks, even months ahead of time. Even if the employee's schedule changes, TruTime can be set to discern between time worked and vacation time, applying only the appropriate hours.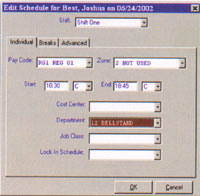 Cut and paste schedules to save time – schedule your entire department in minutes!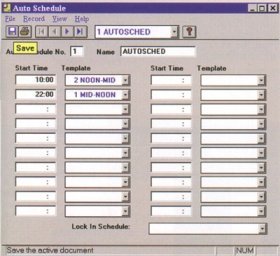 The Auto Schedule applies employees to one of a group of schedules based on their IN punch. Schedules that change frequently pose no problem… Auto Schedule is smart enough to recognize the differences so no changes to the software are required.