Product Description
Reporting Capabilities
With Time Guardian, users have access to extensive reporting capabilities.
Employee Maintenance: Setting up new employees is a snap. These include:
Audit Trail Report
Monitors who made what changes, at what time, to whom — company wide
Exception Report
Lists employee exceptions
from daily schedule
Historical Report
Shows attendance records for a selected period of time
Example: Absences for an employee can be displayed by day of week, indicating patterns, or a trend that may require attention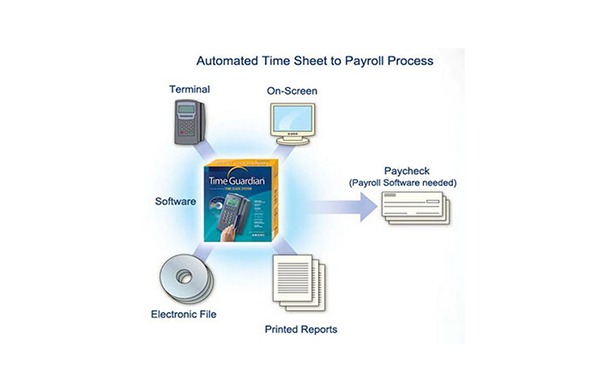 Instant messaging: A real time interface with configurable alerts notifies the administrator of exceptions. The Instant Messaging (IM) tool also enables PC-based punching.
For those to whom security is a priority, when using Time Guardian Pro with an Amano access control product, you can assign the badge and validate the readers with the click of a button.
Manage employee security and time management from a single program!
Leading Edge Functionality Sets Time Guardian Software Apart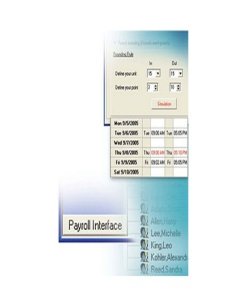 Time Guardian's robust feature set delivers unparalleled capabilities to end-users at an economical price:
Key Benefits
Time Guardian accommodates multiple schedules,
departments, and pay policies and provides the ability to create many reports.
Additional benefits include:
100 Employee Capacity upgradeable to an unlimited capacity
Separate setting for In and Out Punches
Includes Import/Export wizard and Exception
authorization reports
Grace period for meals, Bonuses, Awards based on schedule and unpaid meals are all available
Multiple payroll interfaces available
Available in Spanish (multiple dialects) French, and English on a per-user basis
(the language for the application is determined by each user)
Scalable Employee Capacity
100 Employee Capacity Standard
250 Time Guardian Employee Upgrade Available
Greater than 250 Employee Capacity possible with Time Guardian®PRO —an enterprise Time and Attendance Solution from Amano
Ability to round in and out punches separatel
Time Guardian software functions with the HP Series ®of Hand Geometry Clocks (HP 50e, HP 1000, 2000, 3000 and 4000)
Time Guardian also functions with many versions of the MTX-5, MTX-15, and MTX 20 Terminals
With Time Guardian, users have access to extensive reporting capabilities.
These include:
Audit Trail Report: Monitors who made what changes, at what time, to whom — company wide
Exception Report: Lists employee exceptions from daily schedule
Historical Report: Shows attendance records for a selected period of time
Example: Absences for an employee can be displayed by day of week, indicating patterns, or a trend that may require attention

Features include:
MTX-15 Data Collection Terminal
Time Guardian Software
50′ Communications Cable (RS-232)
120V AC Power Adaptor
25 Employee Badges (mag stripe)
2 Terminal Keys
Communications Adaptor
Quick Install Reference Guide
MTX-15 Terminal Memory: Stores a maximum of 20,000 swipes and 500 employees
Displays employee name when punching